Welcome to Republic!
Republic, Washington is a city with an early 1900s look and a heritage based in the mining and logging industries. Originally named Eureka Gulch, Republic had a population of 954 in 2000. Noted for its fossils, natural beauty and recreational possibilities, it is nestled in a valley between Wauconda and Sherman Passes at the intersection of Washington State Routes 20 and 21 in the north central part of the state.
Learn More
About the Chamber
The Republic Chamber of Commerce exists to serve the local businesses and community of Ferry County, and to assist anyone who wants information about our region.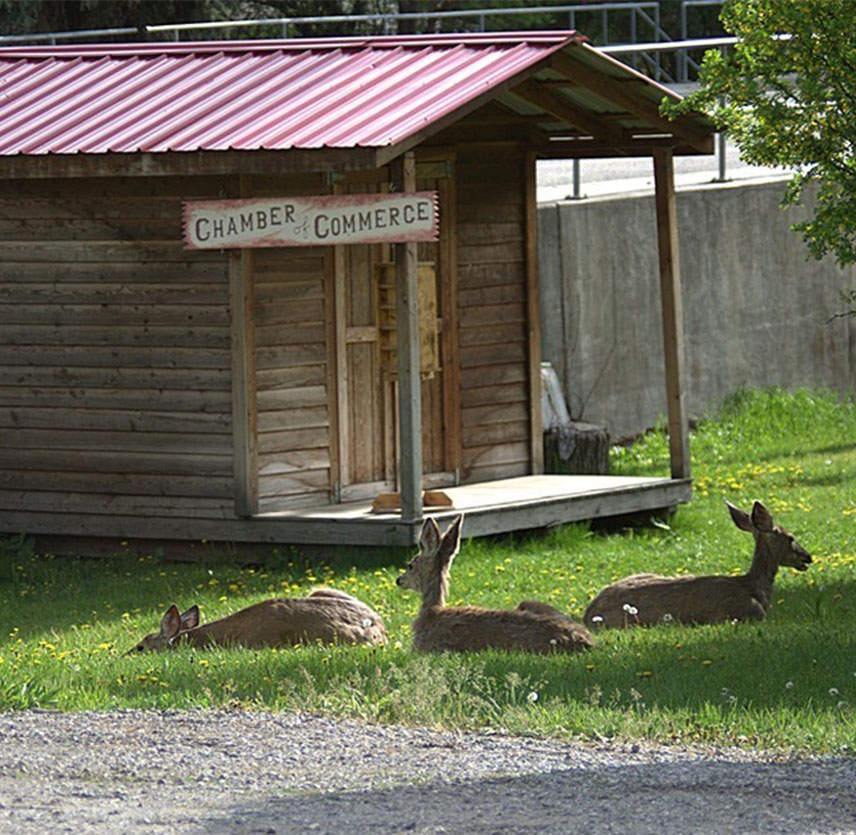 About Our Area
Ferry County is sparsely populated – just 7,000 human residents – but we are abundantly blessed with wildlife – including moose, turkeys, two species of deer, mountain goats, cougars- and yes, even wolves. Ferry County also boasts several fresh water lakes brimming with trout and surrounded by huckleberry bushes. If you want to see nature, Ferry County is a great place to start. Ferry County is abundant in beautiful scenery, clean lakes and streams, and wildlife – in fact, Republic has its' own Mule Deer herd – that have taught themselves to use the crosswalks on our main street.
Republic, the county seat, is surrounded by National Forest lands and within short driving distance of numerous lakes and campgrounds. Hunting, fishing, bird watching, bicycling, hiking, snow shoeing, cross country skiing, boating, motorized recreational sports and fossil digging bring people to the area.
We invite you to visit us and enjoy our natural scenic beauty and homespun hospitality! Discover more area flavor by clicking below.
Become a Member
The Republic Chamber of Commerce is dedicated to promoting and maintaining a healthy economic environment within the community, and advancing the commercial, agricultural, industrial, service, tourism and civic interests of the City of Republic, the County of Ferry, in the State of Washington.
PO Box 502 Republic, WA 99166
Our website is currently being updated – we thank you for your patience – please e-mail us if you would like more information: republicchamber@gmail.com.